AMSOIL 20W-50 Synthetic Motorcycle Oil (MCV)
AMSOIL Synthetic SAE 20W-50 Motorcycle Oil (MCV)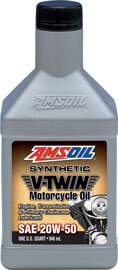 High Performance Lubricant for Engines, Transmissions and Primary Chaincases
API SG, SL/CF, CG-4; JASO MA/MA2; ISO-L-EMA2; API GL-1
Package sizes include:
1-Quart Bottle
1-Quart Bottles (case of 12)
1-Gallon Bottle
1-Gallon Bottles (case of 4)
30-Gallon Drum
55-Gallon Drum
Lube Specialist Praises AMSOIL Motorcycle Oil
AMSOIL Recommended Oils For Harley Davidson Motorcycles
AMSOIL 20w50 Synthetic Motorcycle Oil

Product Code

Pkg./Size

MCVQT-EA
Quart Bottle
MCVQT-CA
Quart Bottles (case of 12)
MCV1G-EA
Gallon Bottle
MCV1G-CA
Gallon Bottles (case of 4)
MCV30-EA
30-Gallon Drum
MCV55-EA
55-Gallon Drum
MCV27-EA
275-Gallon Tote

Preferred Customer Program - Buy at Amsoil at Wholesale Pricing
Call for Ordering and Specials: 800-985-5823
PRODUCT DESCRIPTION
AMSOIL Synthetic 20W-50 Motorcycle Oil (MCV) is a premium oil designed for those who demand the absolute best lubrication for their motorcycles. AMSOIL MCV is the result of extensive research, and it is specially formulated to excel in all areas unique to motorcycles, including high temperatures of air-cooled engines such as Harley Davidson® V-Twin, wet clutch lubrication, extreme pressure regions of gears and chains and rust common to short trips and storage.
AMSOIL MCV is multi-functional and fulfills the requirements of both domestic and foreign motorcycles. It outperforms other conventional and synthetic motorcycle oil.
AMSOIL, the leader in synthetic lubrication, produced the world's first API qualified synthetic motor oil in 1972. Trust the extensive experience of AMSOIL The First in Synthetics® to do the best job protecting your motorcycle.
Reduces Friction, Heat and Wear
In high heat conditions, engine protection is not sacrificed with AMSOIL Synthetic Motorcycle Oil. It has exceptional high-temperature film strength and contains a heavy treatment of anti-wear additives to reduce wear regardless of the operating conditions. AMSOIL 20W-50 Motorcycle Oil is thermally (heat) stable and contains maximum levels of oxidation inhibitor additives. It is extremely resistant to breakdown and engineered to prevent damaging sludge and carbon deposits for superior engine cleanliness.
Provides Extreme Pressure Quality Protection for Gears and Chains
With AMSOIL MCV, there is no need for separate transmission or primary chaincase lubricants. It is absolutely shear stable and will not thin out from mechanical activity. AMSOIL MCV performs like a gear lube without the negative effects of extreme pressure additives. In the FZG gear test, AMSOIL MCV achieved a perfect score with a "zero" wear rating (see photo below).
FZG Gear Test (ASTM D-5182)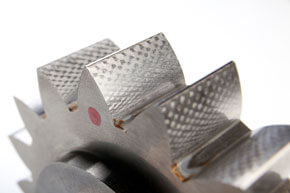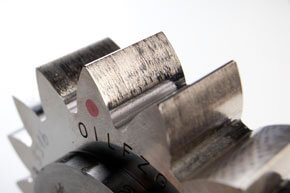 Pass Example:
AMSOIL MCV
Passed Stage 13
Total Wear 0 mm
Failure Example:
Lucas High Performance
Passed Stage 11
Failed Stage 12
Total Wear in Stage 12, 160 mm
Delivers Superior Rust Protection
Motorcycles are prone to rust from storage, humidity and short drives. Rust can cause major damage such as roller bearing failure, uncontrolled wear, compression loss and blow-by. Good rust protection, however, comes by design and is not natural to engine oils. Unlike many motorcycle oils, AMSOIL MCV contains special anti-rust agents. It passes the ASTM D-1748 humidity cabinet rust test and clearly demonstrates superior rust protection (see photos below).
---
Rust Test ASTM D-1748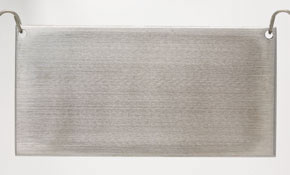 Pass Example: AMSOIL MCV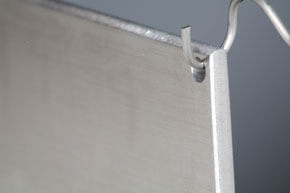 ---
Rust Test ASTM D-1748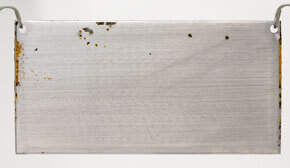 Fail Example Castrol V-Twin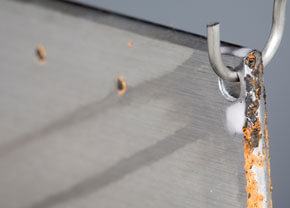 ---
Provides Excellent Wet Clutch Performance
AMSOIL MCV contains no friction modifiers and promotes smooth shifting and positive clutch engagement. AMSOIL MCV controls heat and prevents slippage and glazing, and its high TBN resists acids that can degrade clutch material, helping improve clutch life.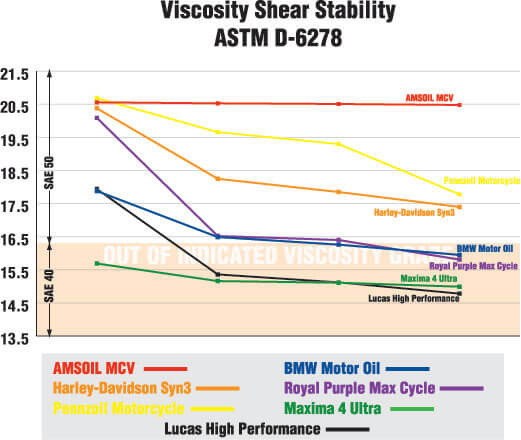 Amsoil Motorcycle Oils Compared - Video Presentaion
APPLICATIONS
AMSOIL Synthetic 20W-50 Motorcycle Oil is recommended for air or liquid cooled 4-stroke engines. It meets SAE 90, API GL-1 gear oil requirements and is recommended for transmissions and primary chaincases. AMSOIL MCV is recommended for Harley Davidson®, Buell®, KTM, Ducati®, Aprilia®, BMW®, Triumph® and other motorcycles where 15W-50 or 20W-50 engine oils or SAE 90, GL-1 gear oils are used. Not recommended where an API GL-4 or GL-5 gear oil is required.
MIXING AMSOIL
AMSOIL Synthetic 20W-50 Motorcycle Oil is compatible with conventional and synthetic motor oils; however, mixing oils may shorten the oil life expectancy and reduce the performance benefits. AMSOIL does not support extended drain intervals where oils have been mixed.
Aftermarket oil additives are not recommended for use with AMSOIL motorcycle oil.
SERVICE LIFE
Recommended for use up to twice the motorcycle manufacturer change interval (miles/hours) or one year, whichever comes first, in engines, transmissions and primary chaincases. For Big Twin Harley-Davidson transmissions only, follow the Harley-Davidson recommended drain interval for synthetic oil of up to 20,000 miles or one year, whichever comes first. When using an engine filter other than AMSOIL Ea, change the filter at standard intervals.
For off-road use, change AMSOIL MCV at motorcycle manufacturer intervals.
Racing or modified engines are excluded from extended drain interval recommendations. Oil changes are at the owner's discretion.
TYPICAL TECHNICAL PROPERTIES
SAE 20W-50 Synthetic Motorcycle Oil (MCV)
Kinematic Viscosity @ 100°C, cSt (ASTM D-445) 20.56
Kinematic Viscosity @ 40°C, cSt (ASTM D-445) 152.0
Viscosity Index (ASTM D-2270) 161
Pour Point °C (°F) (ASTM D-97) -39 (-38)
Flash Point °C (°F) (ASTM D-92) 240 (464)
High Temperature/High Shear Viscosity @ 150°C , 1.0 x 106 s-1 (ASTM D 4683), cP 6.02
Four Ball Wear Test (ASTM D-4172 @ 40 kgf, 150°C, 1800 rpm, 1 hour), Scar in mm 0.37
FZG (ASTM D-5182), Load Stage Pass (Wear in mm) 13 (0mm)
Noack Volatility, % weight loss (g/100g) (ASTM D-5800) 3.89
Foam (ASTM D-892, Sequence I, II & III) 0/0/0
Shear Stability Kurt Orbahn (ASTM D-6278), % viscosity change 120 cycles 0.25
Rust Test - Humidity Cabinet (ASTM D-1748) No Rust, Pass
Total Base Number 11.1
---
AMSOIL Introduces a New Motorcycle Products Lookup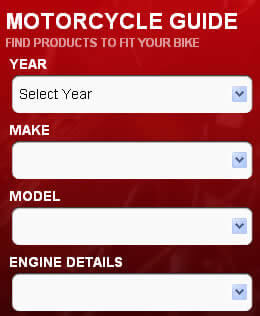 AMSOIL INC. launched a new Motorcycle Products Lookup designed with the specific needs of the two- and four-cycle motorcycle enthusiast in mind. This new lookup offers more specific results for motorcycle oil selection, and includes the oil and air filter information for a wide variety of motorcycles as well. The guide also includes technical information such as capacity references which will be continually enhanced with future updates.
Users will find that the depth of motorcycle applications covered by this tool have substantially increased with this update. Many manufacturers and models are now available which were not included in the past at the AMSOIL PowerSports Lookup Guide. This will also continue to increase as the system is enhanced with future updates.
---
Preferred Customer Program - Buy at Wholesale Pricing Today
---
Lube Specialist Praises AMSOIL Motorcycle Oil
Hello,
You'll notice by my signature below that I am an employee of Chevron Global Lubricants. I am a training specialist and field engineer for our North American lubricants division. I originally worked for Amoco at the R&D facility before moving into marketing, and while in that role, Chevron bought our lubricants business right after I moved to Florida.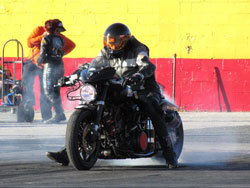 All in all, I have more than 34 years of experience in fuels and lubricants testing, development and tech service support.
I own three motorcycles that I either drive on the street or race. What I wanted to share with you today is my experience with my drag bike.
It is a Yamaha Roadstar Warrior. Originally built as a power cruiser, but now it is stretched, slammed and built to run on E-85 fuel and nitrous oxide. I have taken this bike from a fun street cruiser to a beast that wants to jump out from under me every time I snap the throttle.
The engine is putting out more than three times the horsepower it was originally built with, and with the highly oxygenated fuel, nitrous, and severe use, I have been battling cylinder and piston ring distress for a couple of years. Essentially, whenever I did a teardown, there was evidence of streaking of the Nikasil-lined aluminum cylinder, essentially a scuffing situation that is aggravated by the high cylinder pressures and fuel dilution.
Since Chevron does not make motorcycle oils, I have had to try many of the "other" different motor oils, all synthetic. To make a long story short, I should have read your white paper on motorcycle oil testing. It would have saved me at least three premature teardowns.
Bottom line — the AMSOIL Synthetic Motorcycle 20W-50 has completely solved my problems. I have been running it for over a year now, and compression and leakdown have stayed at the exact level as when the engine was freshly rebuilt. This weekend, I tore down the top end to try a new piston ring combination, and the cylinders had absolutely NO sign of streaking or other wear-related distress.
Also, all other clearances, including valve lash and valve guide and bearing have stayed the same. This is truly remarkable.
In my training endeavors, I run into a lot of end users who are high performance junkies just like me. I have no problem sharing my experience with the AMSOIL products.
Thank you so much for the great product.
Best Regards,
Sam Vallas
Training Specialist
Chevron Global Lubricants