Buy AMSOIL PRODUCTS BY APPLICATION
High Performance AMSOIL Synthetic
Motor Oils and Filtration Products
---
Buy AMSOIL Online at Wholesale Pricing
Pay the Same Price Dealers Pay!!

You can purchase all AMSOIL products at wholesale pricing direct from AMSOIL INC through the corporate website at amsoil.com and have them shipped to your door for less then you would pay locally. Saving you wasted time, gas, and money.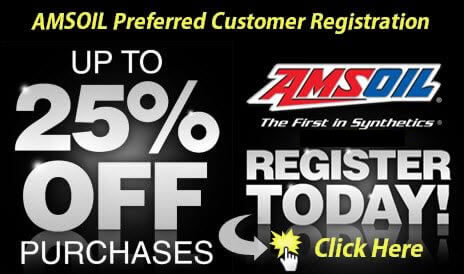 AMSOIL 6 Month Trial Membership Includes:
AMSOIL Preferred Customer Number

Wholesale pricing

, same price Dealers pay, about 25-30% less than retail, with no minimum purchase requirements.

Preferred Customers receive an information kit

including a free catalog, wholesale price listing, an oil filter application guide and numerous product brochures.

AMSOIL News Magazine

Preferred Customers receive the monthly AMSOIL Magazine, at no cost, to keep them informed of technical and application developments for AMSOIL Products as well as news pertaining to their interests, vehicles, and equipment.

AMSOIL Preferred Customers may upgrade to a dealership

at any time.
AMSOIL Wholesale Price Sheet





Benefits of AMSOIL Synthetic Oil and Filters
Extended Service Life
Superior additives & high quality basestocks allow for 25,000 mile oil drains. This saves you a great deal of time and money over the course of a year. Add that to the savings of improved fuel economy, and you'll easily pay for the extra cost of a high quality synthetic oil.

Cooler Engine Operation
Less engine stress & wear, better performance, fewer costly repairs & longer engine life.

Thermal/Oxidative Stability
A clean engine equals better performance, longer engine life & fewer costly repairs.

Superior Friction Reduction
Improved fuel economy & less wear. Longer engine life & fewer costly repairs.

Low Volatility
Less oil evaporation means less oil consumption & better oil flow. This provides for better fuel economy and wear protection

Broad Temperature Range
Easier cold weather starting. Better high & low temp. protection means fewer costly repairs & longer engine life.

Extremely High TBN
Reduces engine corrosion which increases oil service life & engine life while reducing costly repairs.
---
AMSOIL has developed a wide variety of synthetic motor oils for automotive applications such as Acura, Audi, Bmw, Buick, Cadillac, Chevrolet, Chrysler, Dodge, Fiat, Ford, Gmc, Honda, Hyundai, Infiniti, Jaguar, Jeep, Kia, Land Rover, Lexus, Lincoln, Mazda, Mercedes Benz, Mini, Mitsubishi, Nissan, Datsun, Porsche, Scion, Smart, Subaru, Suzuki, Toyota, Volkswagen, Volvo, and more. For automotive applications please see the online lookup guide to find the exact oil and filter for your vehicle.
---
When AMSOIL applied jet age lubricant technology to automobile engines in 1972 the rules changed. AMSOIL synthetic motor oil was in a different class. It expanded the boundaries of lubricant performance and delivered value that motorists had never realized before.
To this day, only AMSOIL synthetic motor oil comes with a 25,000-mile/one-year oil change interval guarantee. Accept no substitutes. AMSOIL is the first in extended-drain motor oil.
Order Online at DEALER COST Today - AMSOIL PC Membership
AMSOIL Product Selection and Cross-Reference Information

---
Why are AMSOIL engine oils capable of extended drain intervals?
Answer: AMSOIL engine oils are formulated using premium synthetic base oils, and the highest quality additives, that provide extended-drain capabilities. Formulated with high quality additives, AMSOIL synthetic motor oils achieve greater cleaning powers, while providing better equipment protection over longer oil drain intervals. AMSOIL's unique synthetic formulation, and robust TBN retention, works to resist oxidation and neutralize the acids that shorten the service life of other oils. AMSOIL's strong resistance to high temperature volatility (burn-off) helps reduce oil consumption, while maintaining viscosity over longer periods of time than other oils.
---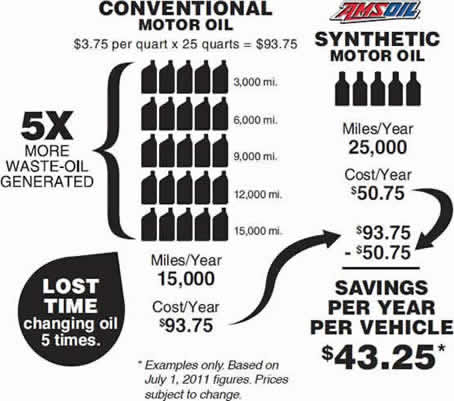 In 1972, AMSOIL coined the phrase "extended drain interval." Many oil companies have since introduced synthetic motor oils of their own recommended for use beyond 3,000 miles. Original equipment manufacturers have been raising recommended oil drain intervals for vehicles, with some reaching 10,000 miles or higher where indicated by an electronic oil-life monitoring system. AMSOIL offers lubricants that safely extend drain intervals even further for greater savings.
---

"AMSOIL synthetic motor oils and automotive products deliver higher value for the money. It's true that petroleum lubricants and conventional filters are priced less initially, but they eventually cost motorists much more than if they bought the higher quality AMSOIL products to begin with.
The same is true when comparing other synthetic motor oils to AMSOIL. Not only are our lubricants proven better in comparison testing, but unlike most of the other synthetic oils, they are engineered for extended drain intervals. That means that, even though all synthetic oil prices are fairly close, a motorist only has to buy AMSOIL motor oil once up to 25,000 miles, depending on the AMSOIL motor oil and filter used. Most other synthetics are engineered and recommended for normal drain intervals, which make them considerably more expensive over time."
A.J. "Al" Amatuzio,
President and CEO, AMSOIL, Inc.
---
AMSOIL products are kept in stock at local distribution centers in Wichita, KS - Superior, WI - Richmond, VA - Portland, OR - Orlando, FL - Las Vegas, NV - Lancaster, PA - Dallas, TX - Columbus, OH - Chicago, IL - Anchorage, AK - Toronto, ON and Edmonton, AB. Shipping normally takes 1-3 business days to anywhere in the US or Canada by UPS, DHL, or LTL. When you buy AMSOIL online through the online store your order is shipped from the nearest distribution center direct to your door.
---
AMSOIL Introduces a New Motorcycle Products Lookup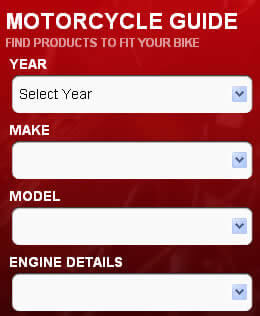 AMSOIL INC. launched a new Motorcycle Products Lookup designed with the specific needs of the two- and four-cycle motorcycle enthusiast in mind. This new lookup offers more specific results for motorcycle oil selection, and includes the oil and air filter information for a wide variety of motorcycles as well. The guide also includes technical information such as capacity references which will be continually enhanced with future updates.
Users will find that the depth of motorcycle applications covered by this tool have substantially increased with this update. Many manufacturers and models are now available which were not included in the past at the AMSOIL PowerSports Lookup Guide. This will also continue to increase as the system is enhanced with future updates, making it easy to buy AMSOIL for your bike.
---
The 3,000 Mile Oil Change??
Everyone has been taught to change your oil every 3000 miles. But just like the government, oil companies have been running us in circles for many years. Between oil companies and government, do you feel like your running on a hamster wheel? Motor oil over time becomes contaminated with acids and other items that force you to change the oil to avoid engine damage. Motor oils are made of approx 75% base stock and 25% additives. It is these additives that fight acids, control volatility, and so on. Most all oil companies use the cheapest additives to remain competitive on price, but the better additives would allow you to run your oil for much longer intervals. Plus the fact that their way keeps you coming back much more often!!
AMSOIL products use synthetic base stocks which means they can design the characteristics of the oil to meet specific needs. Amsoil also uses the very best additives which in turn keeps the oil in top condition for a much greater length of time. If you are any good at math it doesn't take much to figure out that over a 25,000 mile period it is cheaper to use Amsoil synthetics all while taking much better care of your engine, getting better fuel economy, and getting much easier cold morning starts. Most Amsoil users experience a 2 to 5% increase in fuel mileage ( due to less friction ), which in alot of vehicles would pay for the oil change. Does your existing oil do that for you??? Best of all Amsoil is an American company, employing Americans, and using American products!!!! So please educate yourself about Amsoil synthetic oils and learn how to take better care of your investment and save money at the same time. If you are interested in purchasing any Amsoil products, would like to become a preferred customer, or even become a dealer yourself, please give me a call and I will assist you in any way I can.
---
Need to Buy AMSOIL at wholesale right NOW??
1. CLICK HERE to go to the AMSOIL Corporate Website at amsoil.com, add the "Preferred Customer Registration" product to your CART, and the rest of your ONLINE shopping will be at wholesale pricing. See the example picture below.
2. After adding to your CART, be sure to use the Product Lookup Guides on the right-hand menu to see your vehicles' products.
Click Here to Go To The AMSOIL Inc. Preferred Customer Registration Page
Why buy through us??
All new Amsoil customers are placed under a servicing dealer by AMSOIL INC. You can choose to go thru us or get placed under a random dealer. The difference is in extras and services. Pricing for you is the same either way.
Some of the benefits WE provide...
- We are available by phone and email 7 days a week.
- We keep you up to date with product, tech, and news updates by email.
- We make sure your buying the right products at the best price.
- We can help with special requests, retail and commercial account setup, and bulk purchasing.
- We are a full time certified dealership. We live and breath AMSOIL!
- We are a Verisign Trusted Company... Synthetic Oil Technology LLC
Here's our dealer information for ordering or requesting information direct from AMSOIL INC...
Direct Jobber Name... Brian and Tracy Klinkner
Direct Jobber Number... 1642716
Got Questions??
Contact us at: 800.985.5823 or brian@syntheticoildistributor.com
---
AMSOIL HISTORY..
Though AMSOIL Inc. was founded in 1972, its story begins in the mid 1960s, when Lt. Col. A.J. "Al" Amatuzio, a jet fighter squadron commander, was impressed by the superb performance of synthetic lubricants in jet engines (in fact, only synthetics stand up to the performance demands of jet engines) and began studying their possible automotive applications. In 1972, after an intense period of research and development, Al Amatuzio introduced the first synthetic motor oil in the world to exceed API automobile service requirements.
The next year, Amatuzio developed a marketing plan to get his innovative but still unknown product to customers. His marketing plan enabled customers to have personal contact with a Dealer who could take the time to explain the product and answer questions. The rest is history! From humble beginnings in a northwest Wisconsin warehouse, AMSOIL pioneered an entire industry -- synthetic lubrication -- and established high professional and ethical standards for a unique business opportunity.
Since 1972, the company has seen rapid growth and constant change. One driving force behind the great success of AMSOIL is a commitment to quality and constant improvement. As the years passed, an increasingly broad range of automotive and industrial lubricants and filtration equipment was developed, with each new product exceeding industry performance specifications by a wide margin.
---
We got you covered...
Whether you're a car owner looking for the best premium synthetic lubricants for your next oil change, a business owner looking to add a successful product line to your shelves, a fleet owner looking to grow your bottom line, or someone who wants the benefits of owning their own independent AMSOIL business, we hope you'll find everything you're looking for here. Please take your time and view the information on this site.
---
Advantages of AMSOIL Synthetic Motor Oil and Filters


- Superior Fuel Economy
- Superior Wear Protection
- Superior Stability
- Superior Cost Savings
- Superior Fluidity
- Superior Overall Economy
- Superior Oxidation Resistance
- Superior Operating Temperature Range
---